Driving in Costa Rica.
Driving in Costa Rica was an adventure, but not a dangerous one.
A great deal of our vacation time in Costa Rica was spent driving our rented 4×4. (a little Toyota Rav4) We love to explore (rather than sit on the beach) so during our ten day visit we saw quite a bit of the Costa Rican roads. In short, driving in Costa Rica was not too bad. However, it did help that I am used to driving the Pacific Northwest rural highways and logging roads. In general the roads were much easier to drive than the travel books made them out to be.
The travel books tended to state that four wheel drive is necessary to get just about anywhere. That was certainly not true. We used four wheel drive to cross a few rivers and negotiate a few particularly rough sections of mountain road, but remember, we tend to be a bit more adventuresome than most and headed well off the beaten path on a regular basis.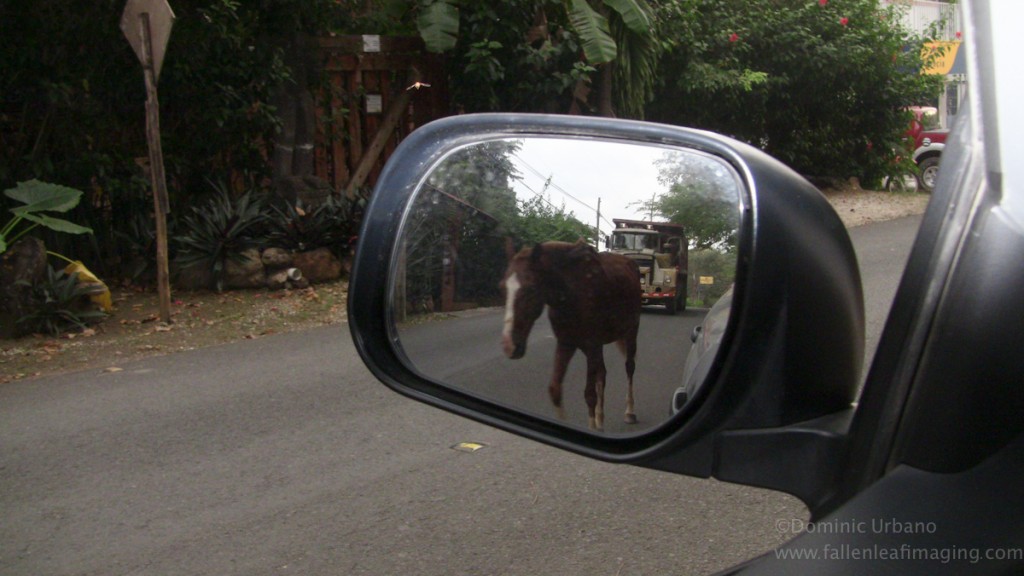 Road conditions change rapidly from smooth paved highway (two lane with no shoulders) to gravel and dirt. Paved roads were at times smooth and well marked but just as often a bit rough and lacking any markings. The gravel and dirt roads were at times wide and smooth and at others they were nothing more that a cow path twisting through farmland.
Be prepared to share the road with all kinds of traffic. Cars, trucks, atv's, cowboys on horses, cattle, pedestrians, bicycles… People in Costa Rica travel at whatever speed they see fit (I am not talking about posted speed limits) and seem to do a great job of peacefully sharing the generally narrow roads. On several occasions we found ourselves stopped as cowboys drove cattle along the road and at one point we were passed by a rider less horse on the edge of a town that seemed to know right where it was going. Teen boys cruising along on bicycles with girlfriends sitting sideways on the crossbar were not an uncommon sight.
Rules of the road are essentially the same as they are in the United States. So pulling out of the rental car center and hitting the road was not a problem. We quickly learned that the more potholes there were on a road, the more relaxing it was to drive. Everything slowed down when the roads were rough. There is nothing like some big rocks in the road to put all travelers on the same pace.
Directional signs were pretty good, but road markings and stop signs were often faded beyond recognition. Our GPS routinely did not like our chosen path and cried out to us to 'make a u-turn'. We tended to ignore it as we followed various thin lines on our map. (we found it amusing that at times we would be on roads that the GPS did not show at all but the GPS would still chime in to warn us of a 'dangerous bridge' or river crossing ahead.) Speed bumps are common and you can expect them in every little village defining the beginning and end of school zones.
Costa Rican bridges were generally very narrow if they existed at all, and often did not have any side guardrails. The roads often required shallow to moderately deep-water crossings. We did not have any trouble with any of ours, but I would assume that conditions can change rapidly.
Costa Rican cars were predominately dent free. It may seem like an odd observation but in contrast with driving on St. John in the USVI where every car seemed to be showing and extensive collision history, in Costa Rica the drivers seem to manage to avoid running into each other. The cars rattle an creak from the abuse that the generally rough roads deliver, but that is certainly understandable. Our rental car only had about 28,000 KM on the odometer but it sounded as if it had been abused for decades.
At the beginning of this article I mentioned that I am used to traveling rural highways and the gravel and dirt logging roads of the Pacific Northwest, so driving in Costa Rica felt quite comfortable. With so much beautiful country to see I highly recommend investing in a rental car so that you can have the freedom to explore Costa Rica at your own pace. If you are not as familiar with driving on such roads, no worries, take your time and pick your path according to whatever you feel you can handle.