Guanacaste Costa Rica Playa Carrillo: a quiet and beautiful beach destination.
By Photographer, Dominic Urbano.
Sunsets in Costa Rica are fleeting. On our first day in the Guanacaste region, we almost missed the sunset when we strolled to Playa Carrillo. The sun had already slipped below the horizon, but the colorful glow lingered. Despite arriving late, we were thrilled to find a stunning beach with no crowds.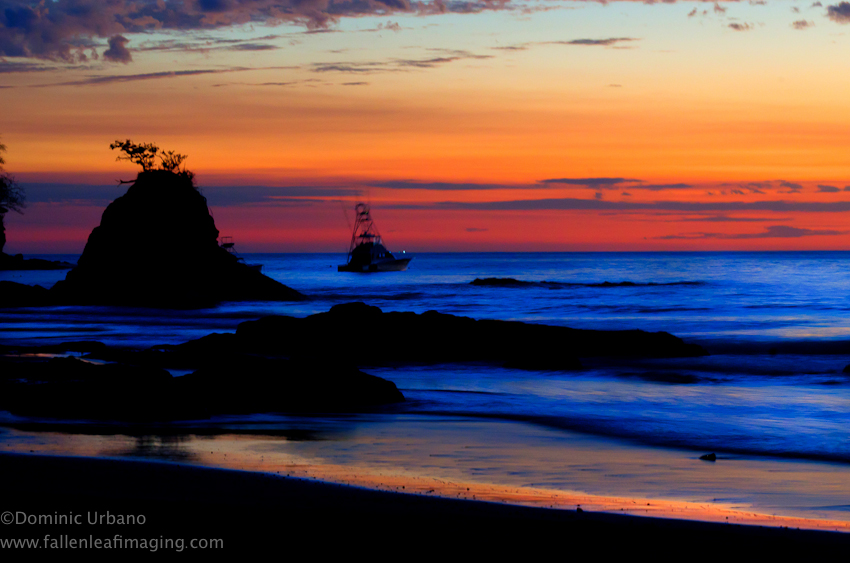 As darkness fell, we split our time between taking photos and soaking in the beach and sunset.
Just ten minutes south of the bustling beach at Samara, Playa Carrillo remains undeveloped, with no hotels or restaurants lining the shore. As a result, it's a serene spot to unwind, surf, swim, or snap photos.
Coming from the Pacific Northwest where sunsets last longer, we had to get used to the quick disappearance of the sun over the tropical Pacific Ocean. But by arriving at the beach by 4:30 pm, we were able to catch the sunset between 5:00 and 5:30 pm.
Although I didn't have my tripod for our first visit to Carrillo, I managed to capture a stunning image of the peaceful and tranquil beach with a 1.5-second handheld exposure. Despite the swaying boat, waves, and my own movements, I was happy with the result. The entire Guanacaste region was a paradise to explore.