I start getting in shape and you win $500 for your favorite charity and a landscape print of your choice.
OK… so I have decided to create a win, win, win… contest to get me out the door and get in at least some sort of shape. I'll put up $500 and a 16x metal print to motivate myself and give you folks an incentive to participate. No catch… no trading 'likes' / 'fans' for dollars to charity. (I hate it when people take the 'like me and I'll donate to charity' approach) Just toss out a guess and you're in. Read on…
I haven't really been in decent shape since 2000 when I blew a hamstring and ended my competitive race-walking days. A little seasonal running when I was still coaching cross country until 2007 and then next to nothing since then. I would bet that I haven't averaged over 20 miles a year since 2000. Yup… that bad.
So how is this going to work. It's my game… so my rules! (I reserve the right to change the rules if I feel inspired to make this more fun)
Starting on June 1st I'll start posting the good, bad, and the ugly of my training. Each day I'll give the details of what I have done that day along with a few other tid-bits that might help you make a guess at how fast I will run 3.0 miles on July 20th, my 45th birthday.
Is there a catch? Well sort of… I am only going to post my workouts from June 1st – June 14th. At that point you will have to guess at what sort of progress you think I will make by July 20th.
Plot the curves however you want… consult the great Spike Arlt and his fuzzy logic software… use a random number generator… whatever.. but make your guess in minutes and seconds (XX:XX) before midnight (pacific time) on July 19th.
On July 20th I will run the 3.0 miles (my best effort) and the person who's guess is closest to the actual time can name any 501c3 charity to receive $500. You will also get your choice of any of my landscape photos as a 16x metal print.
(I have typed this up on a whim… I'll clean it up later)
Contest is open to my Facebook Fiends and Fallen Leaf Imaging 'Fans'
Before you make your guess at my time… concider the following. (I will add training and background info each day from June 1 – June 14)
June 1st – (This isn't actually my first day of training. I have run about 7 times in the last 2 weeks. About 2.76mi each run)

Time of day: 1PM
Distance: 2.76mi (as measured with motionX on my iPhone)
Time: 19:42
Other stats: Morning weight – 178lbs
Temp: 74
Tid-Bit #1 – I used to be a half way decent athlete. Turned out to be a much better race-walker than I ever was a runner. Competed in a few national championships in the late 80's and early 90's. Last time I race-walked was in 2000 as I was training for the 50K Olympic trials. Blew a hamstring doing something stupid and that was the end of my competitive career.
June 2nd –
Time of day: 5PM
Distance: 3.22 miles
Time: 22:52
Temp:65
Morning weight – 175lbs.
Other: Windy… headwind the whole way… I am sure of it.
Tid-Bit #2 – On April 2nd 2008 an orthopedic surgeon called me at home and after introducing himself the first thing he said was "Well, I hope you're not a runner." Not good… he was looking at the x-rays of my crushed left foot. The night before (yes… on April fools day) I had had a motorcycle accident and crushed my left foot. Note that I say crushed, not broken. Yup… it was a mess of broken bones and dislocated digits.
I ended up healing better than he could have predicted, but the foot will never be the same. Kinda miss-shaped, with at least one bone not where it used to be. Oh, well. Wrap it up in a shoe and it works ok. I'm just not great on hardwood floors. (which our entire house has of course)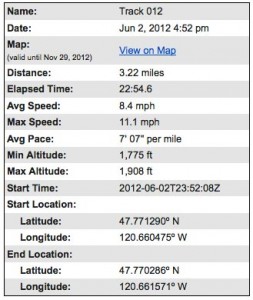 June 3rd – On the mountain bike today.
Time of day: 4Pm
Distance: 8.7 mi – On bike. – Nothing strenuous, but there was about 600 ft. climb for the ride on some nearby forest service roads.
Time: 50 min
Temp: 65
Morning weight: 173.5ibs
Other: Nothing… just taking a day off of pounding. Letting the body recover and get used to the pounding of running. Baby steps.
Tid Bit #3 – Since the last tid-bit was and injury… I'll stick with that theme. Back surgery in 2006. L5/S1 disc and bone. Huge relief after spending a year in pain, but given a year of injury followed by a year of rehab, my flexibility was gone. Great recovery with no significant problems but I could certainly use some yoga!
June 4th – A run up the mountain. (well more of a hill really…)
Time of day: 6:30PM
Distance: 6.9 mi (Enjoyed the route I biked yesterday so much that I decided to run it today. Cut down a side road and crashed a bit of brush to cut if a little shorter than the bike ride – 650ft of climbing. Yikes… where's the power!)
Time: 57:15
Temp: 53
Morning weight: Forgot to step on the scale.
Other:
Tid Bit #4 – Coached cross country for 13 years. That ought to be worth something.
June 5th –
Time of day: 4:30PM
Distance: 3.22 miles
Time: 22:56
Temp:55
Morning weight – 174.8lbs.
Tid Bit #5 – Powered by peanut butter. It is possible… but unlikely that you will ever meet anyone who has consumed more peanut butter in his lifetime than I have.
June 6th – a day away from the pounding. Did dynamic and static stretching + weights.
Morning weight – Forgot to step on the scale. (I'm not used to weighing myself routinely)
Other: Left foot is objecting a bit to the new running routine. Not bad, concidering, but this is the most I have tried to do since the accident. I decided to give it a day off. I really need to work on flexibility anyway.
Tid bit #6 – I am 6'2″.
June 7th – Goodness… this is half of your data points already!
Time of day: 4:00PM
Distance: Unknown – 1.5 miles of steady warm-up run, followed by up-hill strides of 30-45 sec. ea x 3. (six total) w/ 1.5 mile run back to home.
Total time or workout – 42 min.
Morning Weight – 175lbs
Other: The problem with being out of shape is it forces one to run slow. The problem with running slow is that it hurts. Today I felt the need to open up my stride a bit, so I did some strides. Now I just need to get strong enough to hold that stride for more than 45 seconds.
Tid-bit #6 – I also did a little high jumping in high school and college. I was never serious about it and never trained for the event, but I was just good enough to get the team a few points now and again. PR of 6'2″… I jumped my height! Good enough for me.
June 8th –
Time of day: 2:30PM
Distance: 4.15
Time: 30:28
Temp: 58
Morning weight: 174.8
Other: Windy
Tid-bit #7: My right quad and left foot are competing for attention. Not in a good way.
June 9th – I'm probably going to pay for this one.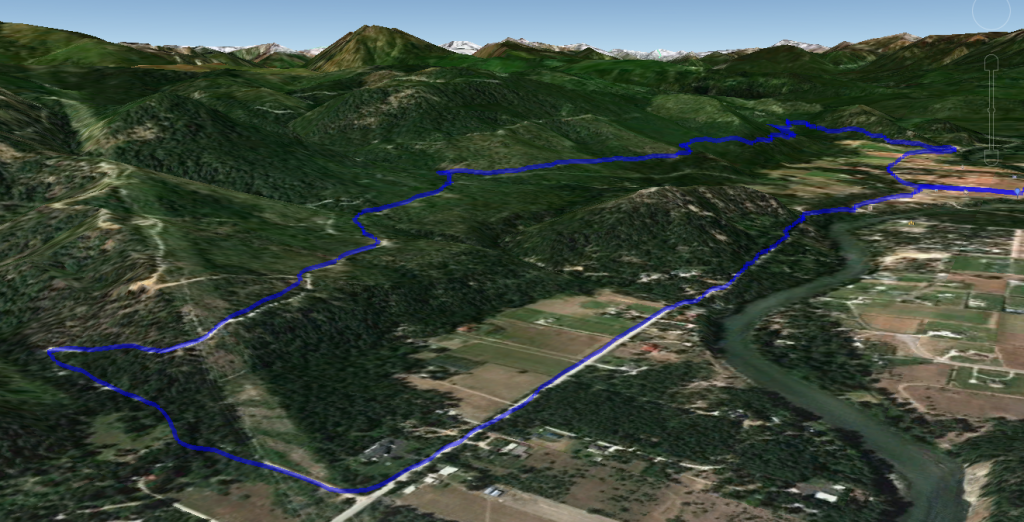 Time of day: 2:30pm
Distance: 8.37 miles
Time: 65:16
Temp: 58
Morning weight: 174.3lbs
Other: Windy (had my hat blow off my head once) Run was on mix of pavement and forest service dirt/gravel roads w/about 600ft of climbing. (vertical cliffs… I swear) I still have zilch for strength and a little incline or headwind slows me to a crawl.
Tid-bit #8 – On July 20, 1969… in celebration of my 2nd birthday man walked on the moon. "One small step… blah, blah, blah… Happy birthday Dominic."
June 10th – Have you ever heard of the D.O.M.'s?
Oh boy… this one bit me. I felt pretty good today given that I had a longish run yesterday… and then I went for my run this evening… oh… my… ouch.
The intent was to run 3mi of easy warm up run and then do some form drills and strides. A little stiff as I started my run, a little stiffer at 1.5 miles, and then completely bound up by 3.0 miles. (D-O-M-S. Delayed-Onset-Muscle-Soreness) Needless to say the strides and drills did not happen. Instead they were replaced by a half hour of stretching. Then a short bike ride to begin measuring the 3.0 course for the July 20th run.
Ugh… I guess my recovery times are a little longer in my 40's than they were in my 20's. Go figure.
Morning weight – 173.4lbs
Tid-bit #9 – It is taking me about 1.5 miles to feel 'warmed' up. So on July 20th I will precede my 3.0 mile effort with 15 min or so of light warm up activity.
June 11th – Yup… and from out of nowhere… the left hip wins!
With the left foot and right quad competing for attention, today it was the left hip that comes from behind to put to rest those other pretenders. The left hip flexor is now packed on ice.
Being smart enough to try to continue recovery from my prematurely long run the other day, I biked a few miles as warm up and then went for a three mile run. In general… all was good. The left hip however decided to make a surprise announcement that it is now on strike.
It will be ice and ibuprofen and very unlikely to be running tomorrow. We will see how a day or so on the bike works, or complete rest if required. The objective is a good effort on July 20th, not daily numbers.
Morning weight – 174.2
Tid-bit #10 – The three mile loop will start and finish at my home in Plain at an elevation of about 1900 ft.
June 12th – A day of rest and ice.
Left hip flexor is still very sore. Better than yesterday… but rest is in order. Ice and ibuprofen are the program for the day. I would elevate too… but that would just look silly.
Tid-Bit #11 – I have plenty of experience with being injured.
June 13th – Another day of rest and ice.
The hip still has me hobbled.
Tick tock…
June 14th – Last day of workout data! Now you have to guess.
Left hip is still buggered up. I am limping about just walking, so a run was out of the question. I decided to give the bike a try and it worked OK. I will likely be off of running for a few more days given the trouble it is currently giving me, but it was good to find that I was able to bike.
Distance: 15 miles
Time: I didn't put a watch on it but I put in a moderate effort on my road bike.
AM weight: 175
Final Tid-Bit…. the map below shows the 3.0 mile course that I will run on July 20th. I will be running alone (possibly one person following on a bike) and using a watch (rather than GPS) to time my effort. The course is a combination of pavement and dirt/gravel. The small loop on the south end is dirt/gravel as is about 200 meters of the start/finish. There are no steep hills but the river crossings are a low point. Everything is a gentile slope towards the river and the grade is noticeable. We also get quite a bit of wind here… no telling what it will be doing on July 20th.
You have until July 19th to submit your guess at my 3 mile time!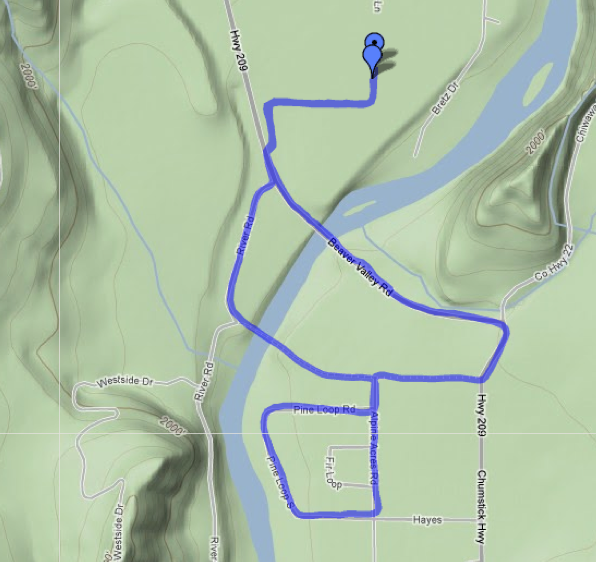 July 20th – And now the rest of the story.
My hip injury of June 8th/9th ended up being pretty bad. I was limping around and not running at all until July 1st. I was able to get in a couple of bike rides… but progress towards a solid run today was definitely interrupted.
I tried running again on July 1st… the same day I came down with a nasty cold. Probably a good thing in a strange way. The cold prevented me from trying to do too much, so I coughed my way through the next ten days or so as I began training again. However running was still a problem as the hips continued to give me trouble.
It seemed that every time I ran… I broke. So I dialed way back on the running and got on the bike. I limited the running to every other day or so and only did three miles per run. Otherwise I was on the bike for the 15 mile loop. The last of the cough finally cleared around July 12th or so… just 8 days ago… time was really not on my side to get ready for today's run.
I knew I needed to do something to open my stride a little so last Thursday I went to the track to do a few paced 400's. All was well until the first few steps of my 5th 400 when my left hamstring decided it was done. Good Lord! Am I really that fragile? (answer is an obvious yes) So with a week to go before my July 20th run… I was limping on a strained hamstring. Great. So… off the running entirely… and onto the bike for four days.
I ran an easy 3mi on Tuesday… hamstring check… OK. On Wednesday I went to the track again for a little pace work. Just a few 200's… I had to risk it. I then took Thursday off.
Paying attention to my diet and with at least some training I have lost 10 pounds that I certainly did not need to be packing around but as far as what kind of time I might run today. In all honesty… your guess was pretty much as good as mine.
Today… I planned to do my run at around 10AM. Antony was going to ride his bike around the loop with me and my lovely wife was going to get up in the middle of her night (she works nights and normally would be sleeping at this time) to do the timing. I had decided not to wear a watch. Since I knew of the times people had guessed I wanted to be 'unbiased' and did not want constant updates on this one anyway.
The wind started kicking up at about 7:30. I checked the forecast. Severe thunder storms on their way in! Yipe. I let Antony and Sloan know that I was going to start warming up and see if I could beat the storm.
So at about 8:30AM, with a flash of lightning and crash of thunder, (literally) I took off.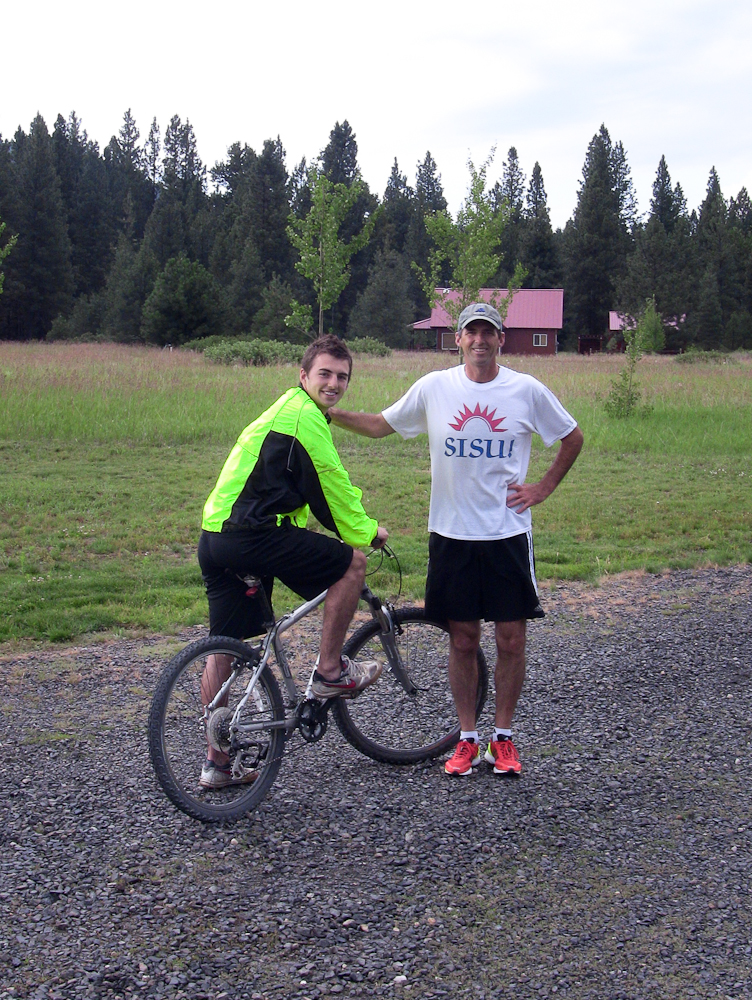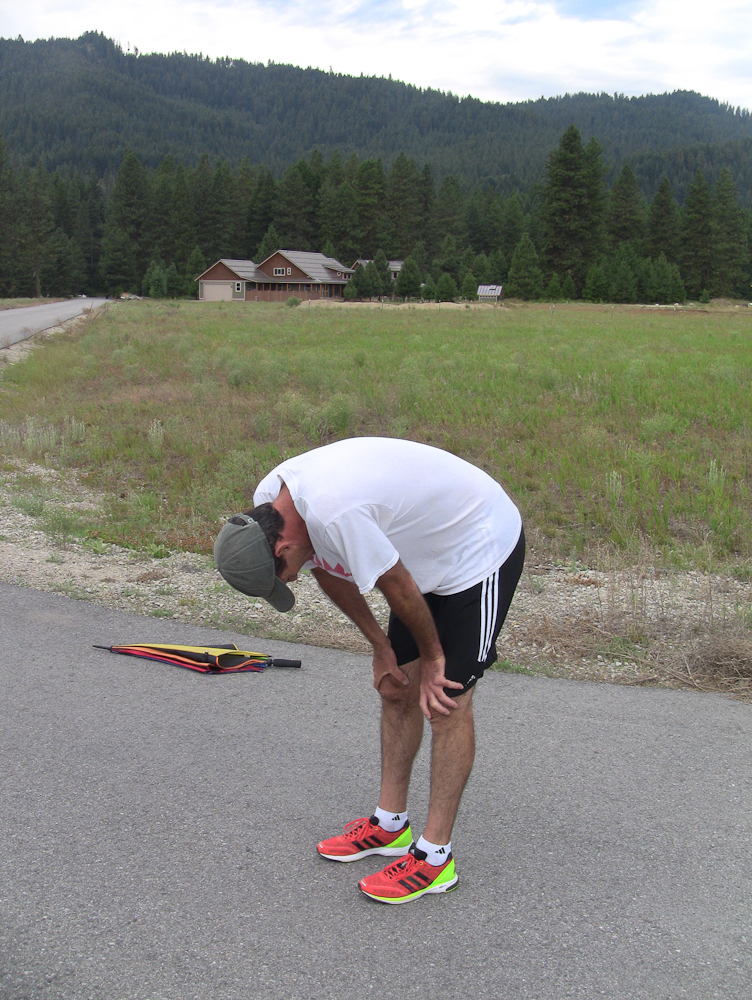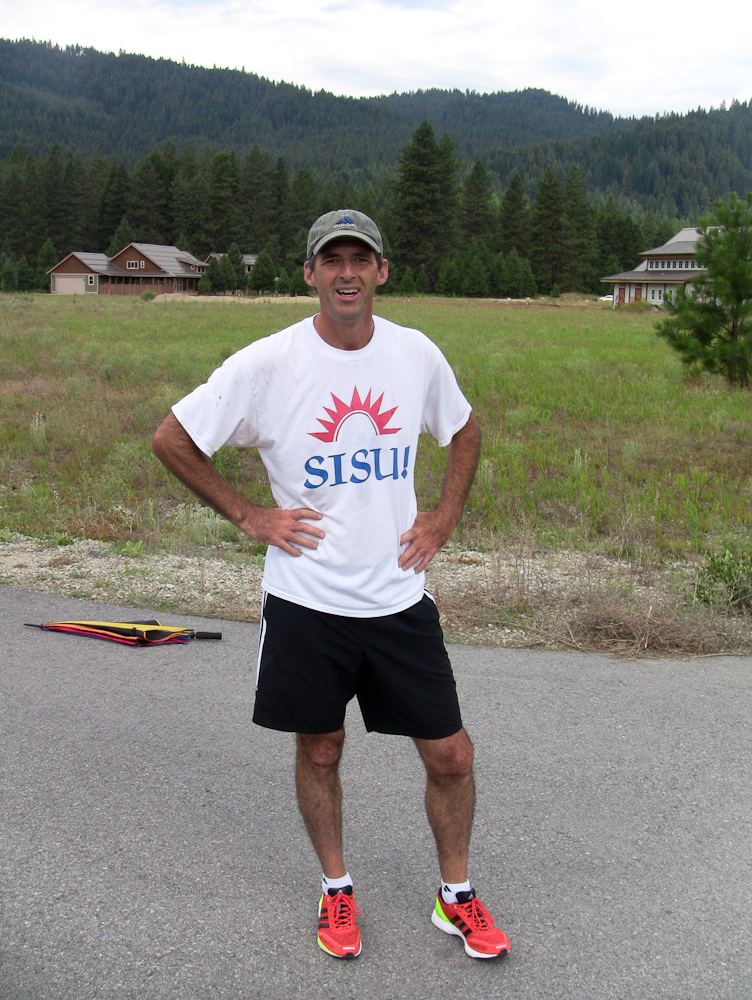 The end result was 18:48 for the three miles. Ugh… I need to take up a sport where I can't compare the 'now' me with the 'former' me. The competitor in me is never satisfied. But this is progress, and after so many years of inactivity it is good to get moving again. I desperately need to focus on building strength and flexibility. All things considered though, I wasn't even supposed to be able to ever run again after the crushed foot accident… so I will count this as an excellent start.
Many thanks to those of you who played my game. It certainly worked to get me out the door and begin what I hope will be a long term pattern of better fitness and better living. But today is my birthday and I am going to indulge myself with grilled steak… chips… beer… and chocolate cake with a strong cup of coffee!
Congratulations to R.B. Wick. (one of my former student/athletes) His guess of 18:47 is the closest. Sloan and I will make donation of $500 to the 501c3 charity of his choice and he can choose a wall print from any of my photography collection.