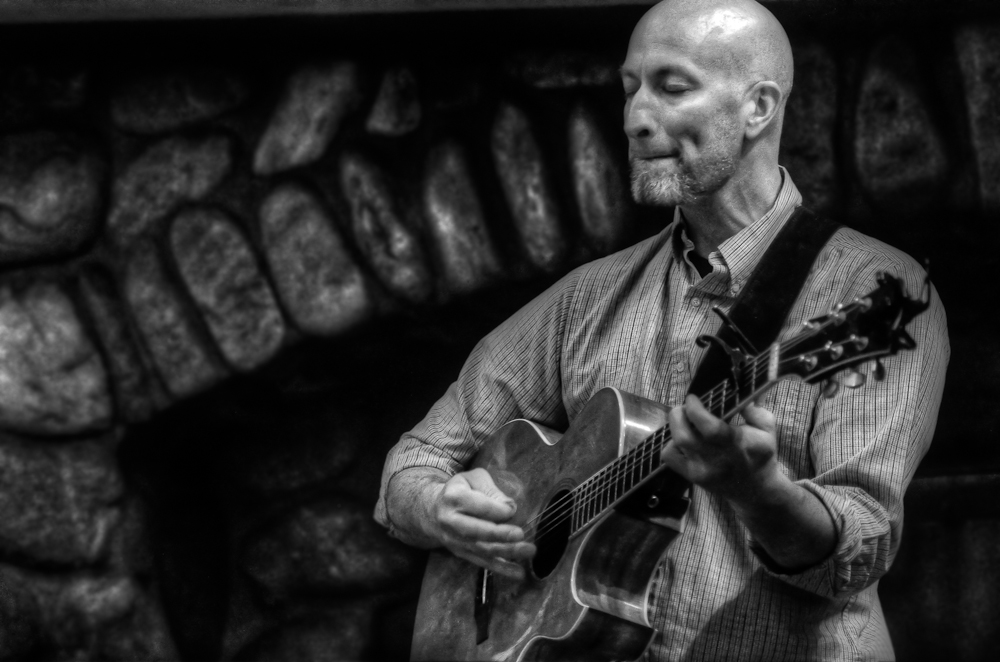 By Photographer Dominic Urbano
Musician Christopher Williams made a stop in my little town of Plain WA last night. The event was sponsored by a local art guild, Grunewald Guild, and performed in the beautiful Mountain Springs Lodge in front of their massive fireplace for an audience of 30 or so people. With his strong voice and engaging personality Christopher kept the audience tapping, singing, and laughing along as he weaved a non-stop mix of storytelling and original songs. A natural performer with his own unique style and an obvious passion for life and his music. At $10… it was a bargain.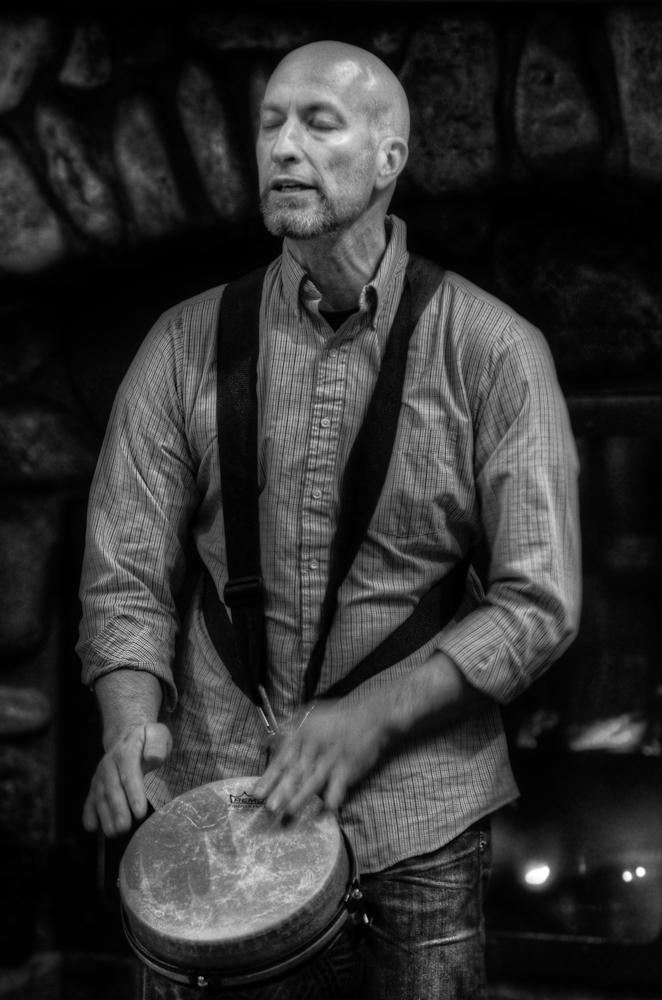 I hadn't intended to do any photography. I had heard that a musician would be playing at the Mountain Springs Lodge on Sunday night. His poster showed a solo artist with a guitar. That was enough to sell me on checking it out. Once there, I couldn't help myself. Before he started I asked Christopher if he would mind if I snapped a few shots during the performance.
I had my d7000 in the car so I grabbed it and did what I could to capture a few images in the dim light. Even using my 35mm 1.8 and a 70-200 2.8 this was one of those cases where the camera just wasn't up for the job. I use my d7000 for all kinds of photography. It is a great camera to throw in a bag and head out the door with… most of the time.
Unwilling to use flash in the small venue (I had an sb900 with me but I knew that it would be a distraction in this small venue) I maxed out the iso on the d7000 and still wasn't getting reasonable shutter speeds. I knew darned well that pushing the d7000 would result in high levels of image noise but I kept clicking away. I had never put that camera to use in low light before so I was curious about the results. In a word… they were poor.
This is one of those cases where the DX vs. FX battle results would be a slaughter. In good light or with proper flashes a DX can be every bit as good as an FX camera (yes… I am disregarding a host of possible print scenarios) but this was not good light.
The image above required a pretty hefty dose of post production to make it 'acceptable'. I favor black and white when high noise (or film grain) is evident and this was certainly a photo that benefited from the black and white conversion. Ultimately it is a strong image that accurately portrays this strong and passionate musician. The large stones of the massive arching fireplace behind him add to the strength of the photo while the closed eyes convey the introspective style of his songs and presentation.
This is not a story of 'live and learn'. I knew that that particular camera would struggle in that venue without flash… but that is no reason not to go ahead and try. As a photographer it is good to push your equipment to the limit. Both to see what those limits are and to justify the dollars spent on other equipment.