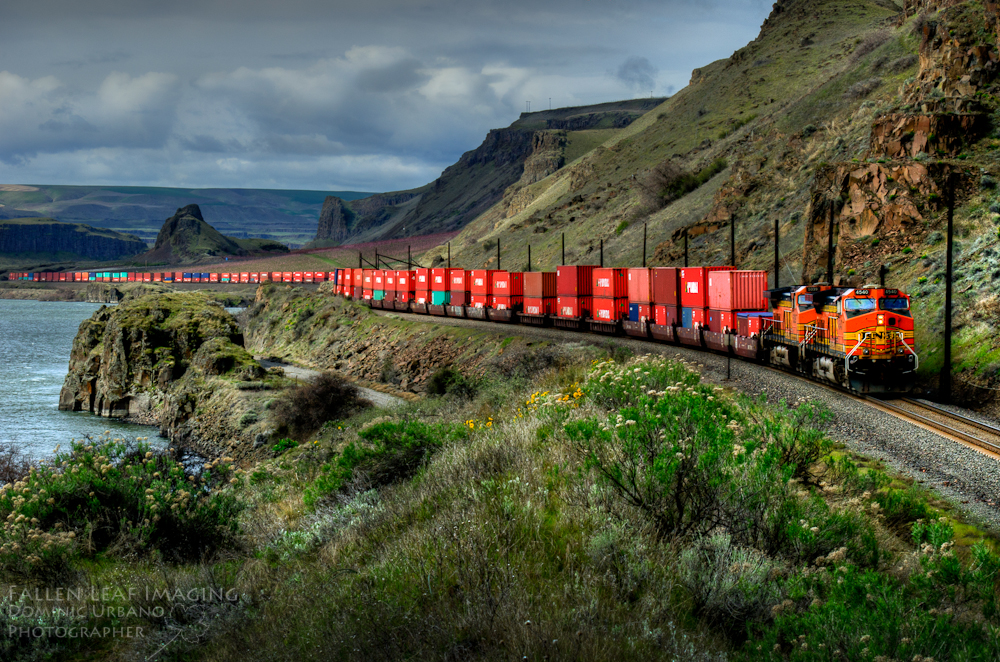 Love train photos? Here's the shot for you.
by Photographer Dominic Urbano
Train photos in the great Columbia Gorge. One of the most scenic places on Earth the Columbia Gorge makes for an incredible location to capture a photo of a train. The Gorge is also one of the busiest transportation routes in the Pacific Northwest so opportunities to train watch here are abundant. The railroad snakes along both the Washington and Oregon sides of the river as trains pull long chains of cars through the picturesque landscape. If you like trains, a the Gorge is one of the greatest places to visit.
I spotted this BNSF train as I was crossing into Oregon near The Dalles, Oregon. I made a u-turn, returned to the Washington side of the Columbia River and dashed up a small ridge that bordered the railway to get the shot. Luckily for me the train was standing still and I had a few minutes to set my tripod and compose a few photos. With the iconic basalt cliffs of the Gorge and even a fruit orchard just beginning to bloom in the background, it was a fantastic landscape setting for a photo of this BNSF train.
Opportunities for great photography are literally around every bend in the Columbia Gorge. The incredible mix of industry, water, and landscape provide endless opportunity to compose shot after shot. It's not difficult to find a 'perfect' spot… the difficulty is deciding which 'perfect' spots to capture. The area is such a visual treat that it's hard to make any progress down the road without seeing another scene that is just begging for you to stop. For a photographer, the Columbia Gorge is one of those 'bucket list' places. Like Zion or Yosemite Parks, the Columbia Gorge is a premier photography destination.
A moment after I took this train photo the train engine powered up and the long train continued its journey up the Columbia Gorge. Even though I was just passing through the Gorge on my way to Portland (as opposed to being on a photography-specific trip), I made a few stops and ended up with numerous portfolio quality images.