Photographs of your own back yard might be more interesting than you ever imagined.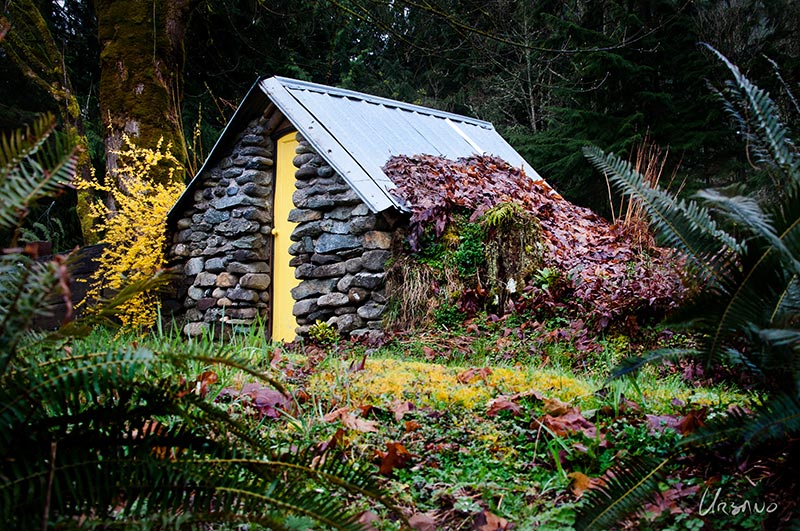 When I opened my gallery in Leavenworth WA I had to sift through 100's of potential images and select the few that I would print and display. In the end I decided to go with a variety of shots that I thought were representative of my work and were personal favorites. Since I was going to be seeing these images on a daily basis I might as well choose photos that had some sort of personal meaning. The image of the stone root cellar with the yellow door was taken at my parent's off grid home and it has plenty of personal meaning but it was not going to make the cut. The truth of the matter was that I did not have to work very hard to capture the image and so at least mentally I wasn't giving it very high technical merit marks. A not so uncommon fallacy amongst photographers is that a photograph that involves chest deep ice water or hanging precariously from a cliff somehow makes that image better. In the case of this image I was visiting my parents in NW Washington and while standing next to their garden admiring the new fence they had built I looked back up towards the driveway, raised my camera, and snapped this photo. Certainly the shot was too easy to be gallery wall worthy. I was wrong.
What I had not considered was how unique the scene was for people who were not as familiar with the place as I am. I like the image… I think it is a great shot of home. I grew up at this location. I helped build that driveway and the house that is just out of frame. I have climbed that big maple tree in the background that is responsible for the piles of dead leaves on the cellar roof. Yes, plenty of personal connection and meaning, but not very high on my personal 'cool' meter. The reaction of other people to the image has taught me a lesson about perception and trying to judge ones own work.
This image is one of the most popular in my gallery and a top seller. People are attracted to it and use words like 'homey', 'cute', and 'comforting', in trying to explain their attraction. They seem surprised when I tell them that the photo was taken in my parent's back yard, as if a back yard can't possibly contain such an image. I then have to confess that I used to think that way too.