2013 NCAA Division II National Cross Country Championships
Spokane WA. – At 20 minutes and 40 seconds into the NCAA II national championships Tabor Stevens of Adams State made a decision to win the race. It was a strong pass on Michael Biwot of American International who had made an early break at 13:15. Biwot's attempt to go solo early was ill fated as a strong group of eight runners, including Tabor Steven, kept him within five to ten meters and pulled him back to the group within three minutes. At 16:20 Biwot again tested the goup, but four of them responded and Biwot was unable to break away.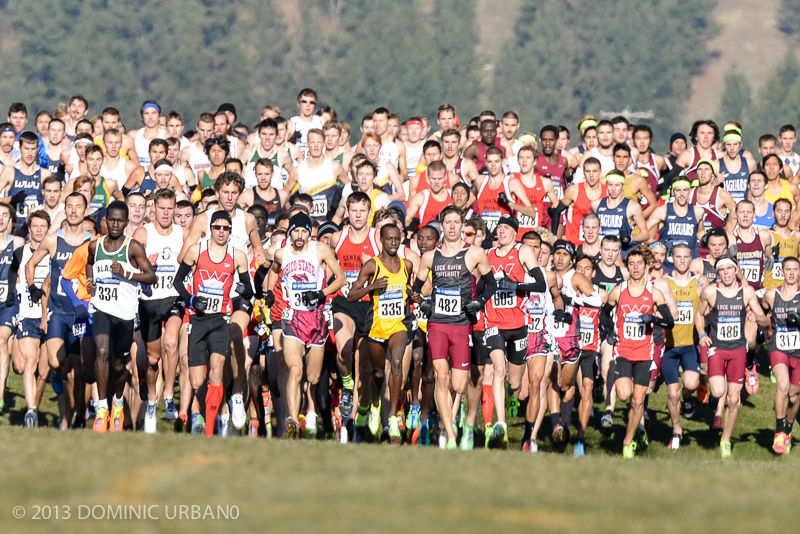 What happened next was subtle, but for those who know the sport it was a key moment. At 19:20 Stevens tested Biwot, not with a full pass effort, but with a gentle push to pull alongside Biwot. Biwot responded with another energy sapping surge, but now it is Stevens who is in control. Stevens is the only one of the group to respond to Biwot's reactive surge and as soon as he makes contact again he makes a sincere passing effort. (I happened to be there to capture that precise moment… see the photo below) Biwot does not respond with anything more than a turn of the head as Stevens passes him. With Biwot taking up the space between him and the chase group Stevens wisely presses this advantage to create a wide gap.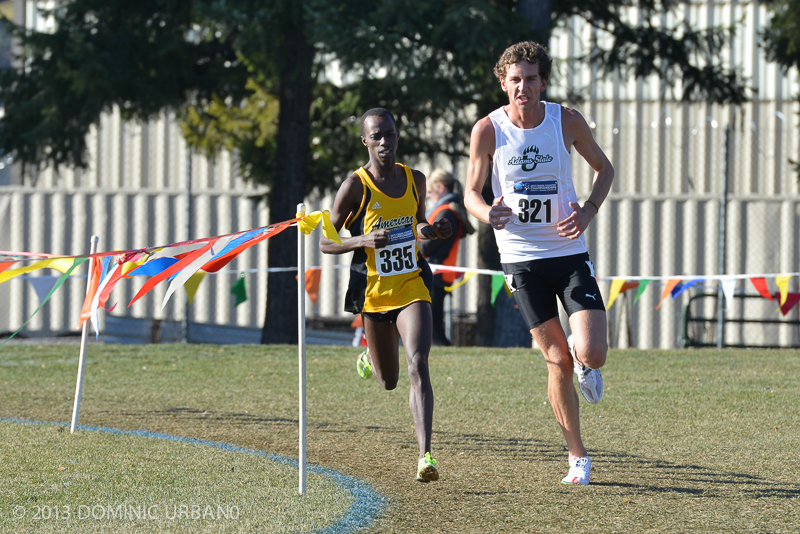 For Tabor Stevens, 20 minutes and 40 seconds from the starting gun marks the moment when he committed to winning the national championship. It was a bold and brilliantly timed move that committed him to the next nine minutes of pure hard running. Not a great deal of strategy left after a move like that, just a continuous hard solo run to the finish. Hitting the tangents and using what little terrain that the Spokane course had to offer in order to ensure that the runners behind him did not get the opportunity to feel hopeful. Tabor Stevens, sporting the type of wide grin that only comes with the bonus bit of adrenaline that is afforded an athlete who has earned a solo trip down the finishing stretch, crossed the finish at 29 minutes and 50 seconds. The 2013 NCAA Division II national champion.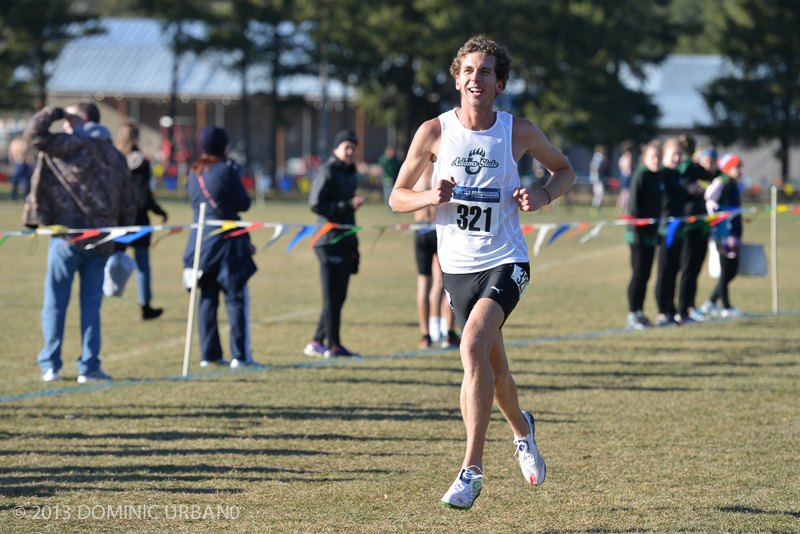 The NCAA video below shows the entire Women's and Men's national cross country races. The video coverage is poor and the commentary is worse… but there is enough there to appreciate the excellent cross country racing that happened at the 2013 NCAA Div II national cross country championship race.
NOTE: It would seem that the entire race video referenced above has been pulled off of youTube. I have found a post race interview with Tabor Stevens to share instead.