(Patagonia) – Our 'W' hike in Torres del Paine National Park began with a ferry ride across Lago Pehoe to Refugio Paine Grande. It was a beautiful way to get a broad view of the mountain peaks and valleys through which we would soon be trekking. A windy and bumpy ride on the catamaran was not ideal for photography but with spectacular views of Cerro Paine Grande, Los Cuernos ('The Horns') and Torres del Paine, I spent about half of my time on the boat capturing images and the other half just enjoying the scenery. Emerald green water with white-capped waves provided the foreground and swirling clouds the backdrop for the rugged mountain peaks. Even if a person had no plans to do any hiking in the park, taking a trip across the lake and back would be well worth it.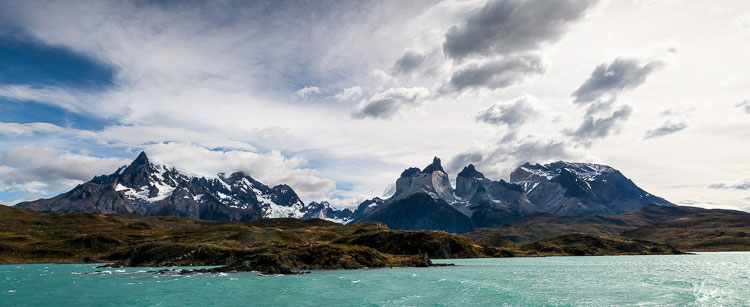 Hiking the W is an excellent way to experience this part of Torres del Paine, but some of the best views of the mountains are had when you are further away. The ferry across Lago Pehoe provides people with an opportunity to get that wide view.
Video – Shooting from a moving deck of a boat can be tricky!
Tickets for the ferry are purchased on the boat itself. Upon arrival at the departure dock, you will join a queue of people and get on the boat without paying. The fare is collected en route across the lake. The down side to this is that everyone must go below deck to pay which means there are a few minutes of sightseeing lost during the paying process. In our case it took less than ten minutes to make our payment and return to the viewing deck but I would suppose that on a busy day with more people this could take quite a while and really detract from the trip. In March 2014, the cost for the ferry was CHP $12,000. They also accept US dollars and used an exchange rate of CHP $500 to USD $1 regardless of the official exchange rate for the day.
More about camera setting and shooting from the deck of the ferry.
The information and photography from this trek in Patagonia are from March of 2014.