By Pacific Northwest landscape photographer – Dominic Urbano.
Note – This is part three of a three part series outlining my travel in the Cascade mountain foothills using the forest service back roads. To start with the first day of travel from Winthrop WA click here. A collection of notes made each evening in my tent as I explored the little travel
Snapped a few photos before breaking camp at South Navarre and then I started towards Chelan. Haze from the forest fires in southern Washington continue to obscure/soften the distant views. The forty miles of forest service road from South Navarre to Chelan took about two and a half hours. (on maps as Grade Creek Road – FR 8200) One of the best sections of road so far. It was pretty rough road in spots. The view and driving experience was excellent. Numerous side roads were tempting to explore but I decided to stick to the main route. This section of road above Lake Chelan will get a return visit for sure. (I included a map of this section of Grade Creek road with my previous entry)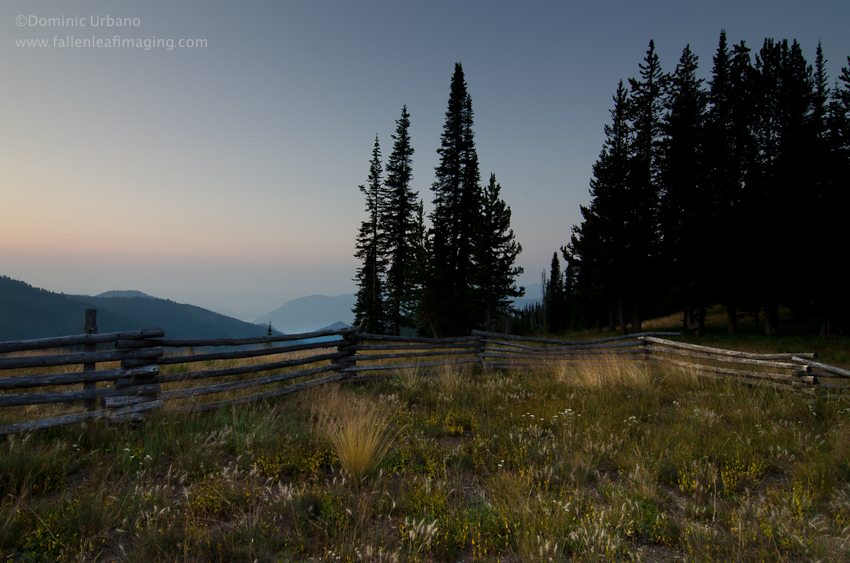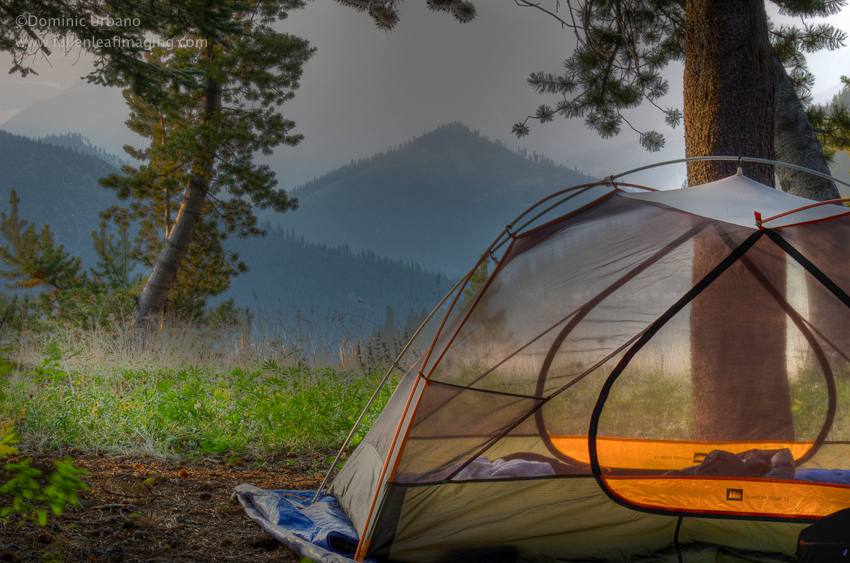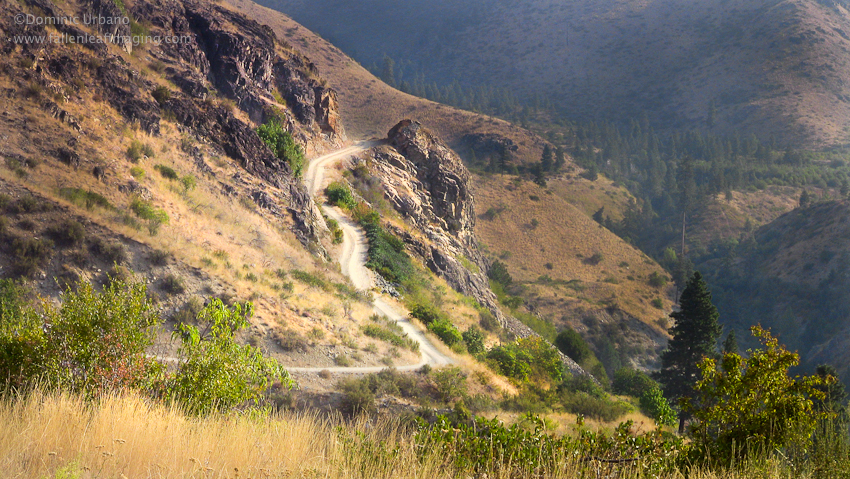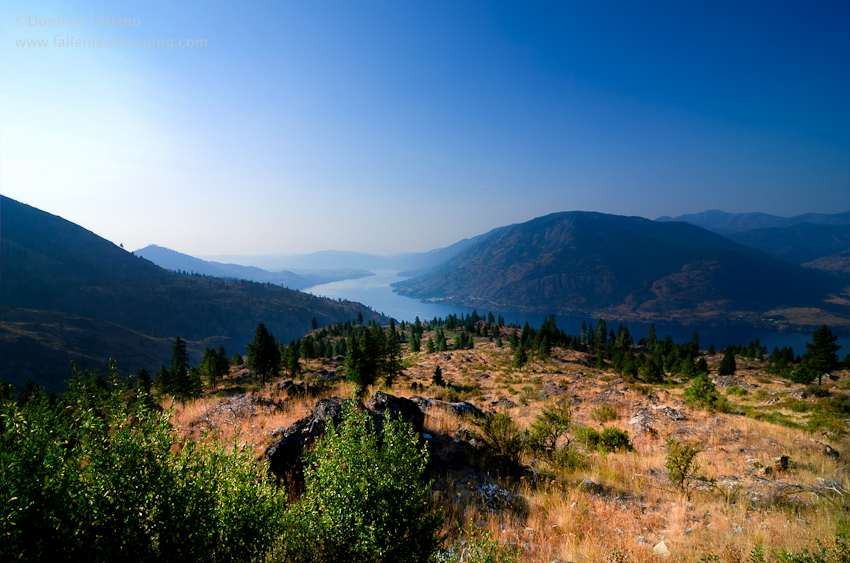 Coffee and then a swim in Chelan.
It was about 11AM before I headed out to 25 mile Creek. I decided to head up Slide Ridge as Sloan and I had traveled Shady Pass earlier in the summer. (It turns out that Shady Pass was the better route. See map at the bottom of page for both routes) Slide Ridge was good too, with views east down to Chelan and across the Columbia plateau. Haze was even thicker today so the view was limited.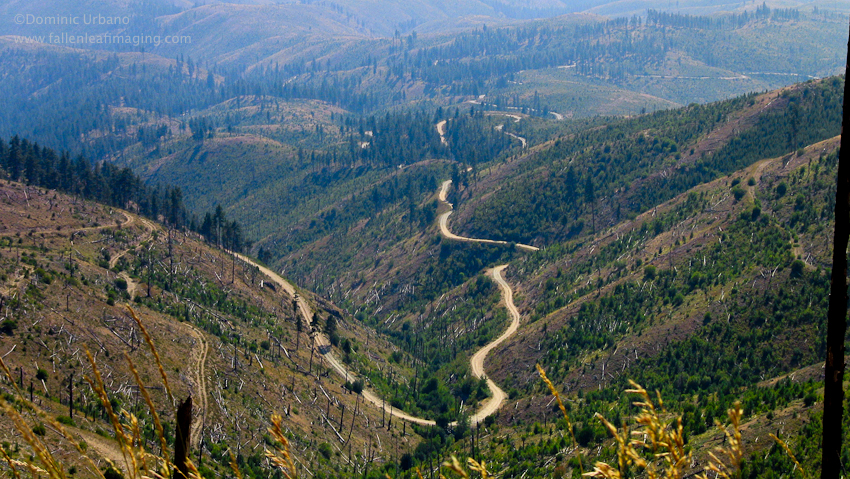 Dropped into the Entiat Valley along Potato Creek. (FR5580) by accident. The roads were not well marked along the top of the ridge. Not a problem, but it was the first time on this trip that I had ended up on a road that I had not intended.
At Ardinvoir I turned up Mad Creek Road and back into the hills on FR 5800. This road was a virtual freeway compared to what I have been driving. Having gotten used to traveling without seeing anyone it was almost startling to see people. There were a whopping three trucks and two motorcycles on this section of wide smooth gravel road leading to the top of Entiat Ridge.
At the top of the ridge I turned towards Sugarloaf fire lookout and followed the same path that Sloan and I had 'discovered' earlier this summer. Easily the best views of the entire trip are from this ridge.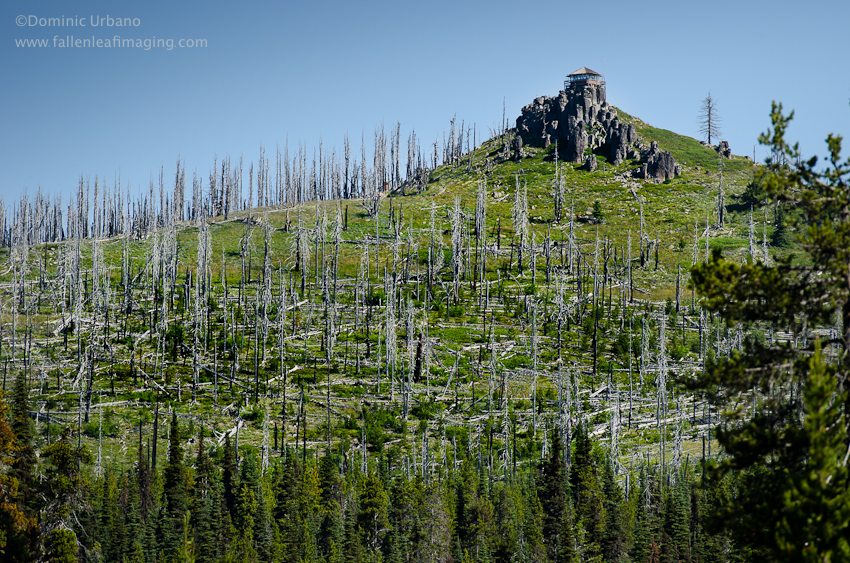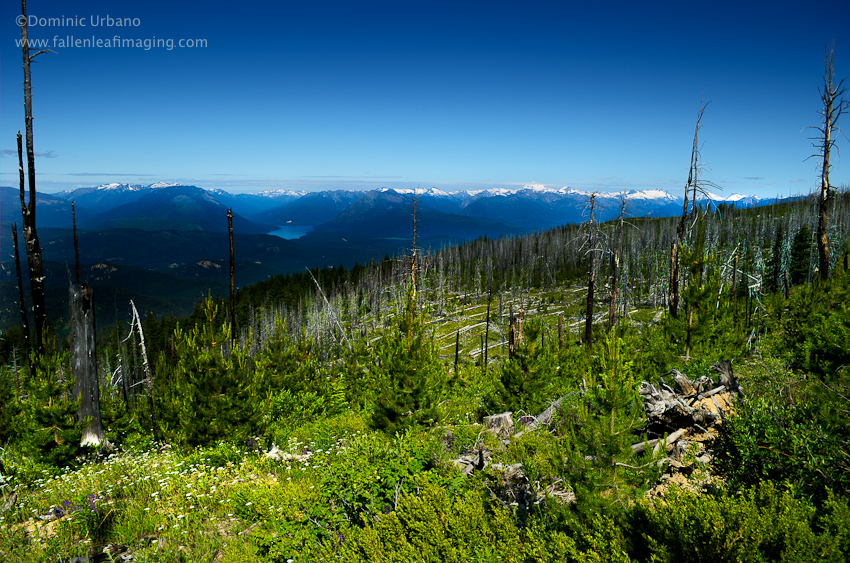 Back to narrow roads along the ridge and the dust is thicker here than anywhere else. Three – four inches deep on the road and as fine as flour. Huge clouds of dust follow me and the wind is kicking it up in front of me.
The road was really bad after the Mad River trail cut off. Leave the road here and your dead for sure. Very steep drops. Lots of rocks on the road. This section would not be a good place for a vehicle without good clearance.

I started to think I wasn't going to find a spot to camp. Deer camp was full with a trail maintenance work crew running a small generator so I drove off on a small side road a few miles and then onto an even smaller one. There I found a hunters camp in the woods. Quiet, with only the sound of a little brook. I couldn't tell you where it is… in the woods on a unmarked road somewhere outside of Plain WA.
This will do.

View Chelan to Leavenworth via the Forest Service Roads in a larger map
On this map… The blue line marks the route that I took on this September 2011 trip. The orange line marks an alternate route over Shady Pass. I traveled that route at the end of August. The yellow line marks an alternate route from Entiat ridge down to the Chumstick valley on smoother roads. The blue line past Sugarloaf fire lookout gets very rough for a few miles.