Pacific Crest Trail 2018 Hike Advised Gear List.
(2023 Update… I am still using most of this gear!)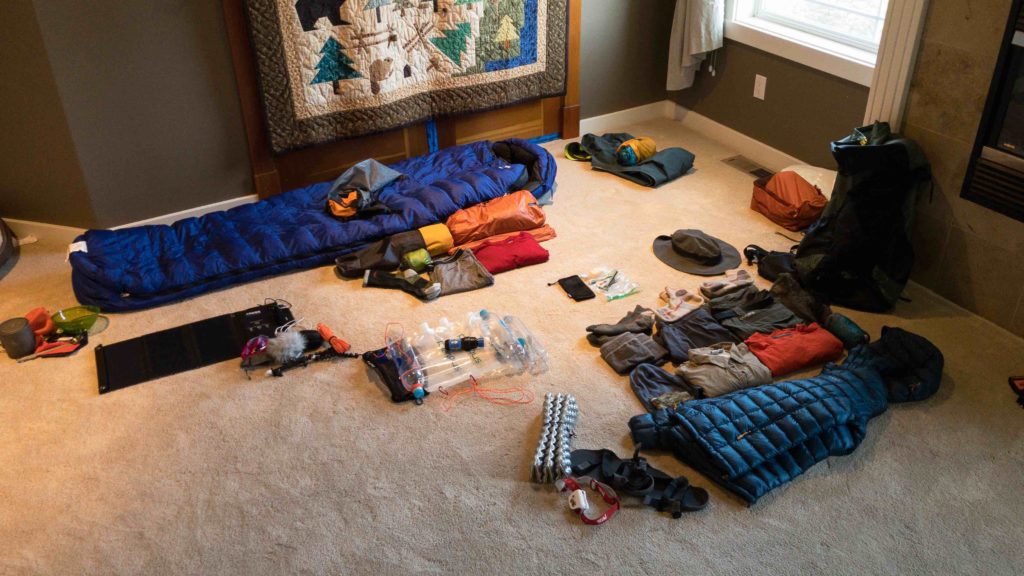 Darn Tough Socks… The best socks I have ever had… hands (feet) down!
Really, I don't know what it is that makes Darn Tough Socks so significantly better than other brands, but when it comes to hiking this is by far the best sock I have ever used. The sock simply forms itself around your foot and then stays put. Seems simple enough but if you take a moment to think about how blisters form (friction) having a sock that forms to your foot and then acts as a barrier between your foot and shoe movement can make all the difference for a successful hike. I bought the socks based on what I perceived as the general consensus of various through hiking blogs and videos and as soon as I completed my first training hike I knew that they were correct… Darn Tough socks are simply better. I carried three pair of the socks with me on my PCT hike which made it possible to rotate them (wash/dry/wear) so I could start each day with a clean pair. The sock is available in both the short ankle version and the taller boot version. Visit the DarnTough site for current sock options at https://darntough.com/
Sawyer Squeeze threaded connector for bottle to bottle filtering and filter back flush cleaning.
This little connector for the Sawyer Squeeze is a gem of an item. I can't imagine using the Sawyer Squeeze filter without it. It allows me to connect two Platypus bottles to the filter (See Video of PCT water filter system). The 'dirty' water bag connects directly to the filter and then this blue connector allows me to connect the next bottle to the outlet side of the filter. Works great. Filter a couple of liters of water and then squeeze some of the water from the clean bag back into the dirty bag to back-flush the filter. No syringe… works great! Visit the Sawyer site for more info https://www.sawyer.com/products/squeeze-water-filtration-system
Therm-a-Rest NeoAir Pump bag for inflating your sleeping pad rather than huffing and puffing and making yourself dizzy.
I'll confess… I hated my NeoAir XLite air mattress within about 20 breaths after first trying it. I knew immediately that I was going to hate having to blow up that mattress at the end of a long hot day of hiking when all I really wanted to be doing was relax and put my sore feet up. Just a few weeks before I left for the Pacific Crest Trail I came across this bag. Now I hate the mattress a bit less. The bag connects to the mattress air vent with a simple friction fit "O" ring which will come off repeatedly and cause you all kinds of frustration until you get the hang of the quick air grab/close/squeeze motion that is required to inflate the sleeping pad. Worth having? Yes. Perfect? No. Beats the heck out pursing your lips around the valve and blowing air.
As a lightweight knife for hiking this little Buck Apex knife works great.
When I started searching for a knife to take with me on the PCT I was looking for a few key features: Lightweight, one-handed opening, and a locking blade. The Buck Apex meets all three of these criteria plus has the added benefit of a built in clip. The clip feature turned out to be a great thing to have. When I was setting up my pack and trying to decide where to put the knife I clipped it to the top plastic ring at my left shoulder. That's where it stayed and still is. Quick and easy access any time I wanted it whether or not my pack was on my back, setting beside the trail on a break, or tossed in a heap in the corner of my tent at night. The blade takes and keeps and edge quite well and is just the right size for a general purpose hiking/camp knife. My only complaint is that the blade opens just a little too easily. An easy opening blade is nice for one handed opening, but there were a few times when I discovered the knife partially open without me having started the process. I learned to watch for it and never did have a problem but the potential is certainly there for an inadvertent cut or puncture. Great little knife that will hopefully be on my pack for years to come.
Spenco 2nd Skin Squares. The key to taking care of blisters while hiking.
Blisters… it is one area that I have quite a wealth of experience. As a former distance athlete and cross country/track coach, I have in the neighborhood of 30 years of experience in taping up blistered feet/heels/toes… Out on the PCT I saw people doing all sorts of strange things to try to treat and get some relief from blistered feet. It made me cringe. I didn't take the entire tub of gel squares, that would be heavy and unnecessary, but put a dozen or so of the gel squares into a small ziplock bag and added them to my first aid/blister kit. The gel squares when combined with proper blister site prep and taping (I recommend Leukotape) will give maximum protection and relief from blisters. At this point I am unaware of any product that does the job better.
Leukotape works best for taping blisters while hiking.
Not all tape is created equal and if you want to tape your blisters while hiking Leukotape works great. First, the tape stays where you put it. Second, the tape forms to the contours of your foot or toe which helps eliminate the problem that other tapes often create when they have wrinkles or tape seams that cause pressure points. I saw all sorts of terrible looking blister taping that hikers were doing on the PCT and it made me cringe. This may be the one time that duct tape is definitely not the answer. Leukotape is a bit more expensive than the alternatives but well worth the price if you want to be able to keep hiking rather than having to stop due to poor blister tape jobs. (I combine Leukotape and 2nd skin gel squares when taping a blister)
Anker 21w Dual USB Solar –
Originally I had decided against taking a solar charger on the PCT, but bought this one and was quickly convinced to take it with me. The slight increase in my pack weight is worth not having to search for and outlet and then wait for a battery charge. The solar charger worked great! I would pull it out and use it each time a stopped for a break. That was usually more than enough to keep my phone battery topped off.
Shure MV88 iOS Microphone
I tried two different external microphones for my iPhoneX and decided that this was the better of the two. Using the mic while hiking was simple as there are no chords or mounts needed. I could simply plug the mic into the lightning port and it was ready to use and just as easily take it off when I didn't need it. The audio quality is significantly better than using the built in phone mics and when you add a wind sock of some sort (I already owned a Rhode "Dead Kitten" that worked really well) it made it possible to record in the often windy conditions out on the trail. Not the cheapest add on item but if you are looking to do some video blogging etc… this will help the audio portion.
GLIF Tripod Mount for iPhone
The key selling point to this nice little tripod mount for the iPhone is that it has three seperate 1/4 inch threaded mounting points. This allowed me to have the Jobi tripod mounted on one end and the StickPic mounted on the other. This eliminated the need to ever screw / unscrew parts. A big help while hiking!
True Lemon Packets – This might seem like an odd hiking item… but I really appreciated having them.
I knew from prior experience that I don't like the taste of the water usually found in the desert so before I left for the PCT I experimented with a few ways to make it more palatable. These little packets of unsweetened lemon powder helped make the desert yuk water more palatable. One packet in each liter of water was the same as squeezing a wedge of lemon into the water. There is no nutritional value… this was purely about taste, but when you are sucking down liter after liter of water as you hike in the desert making it taste a bit better helps. The packets weigh next to nothing and I kept a handful of them with my water filter kit.